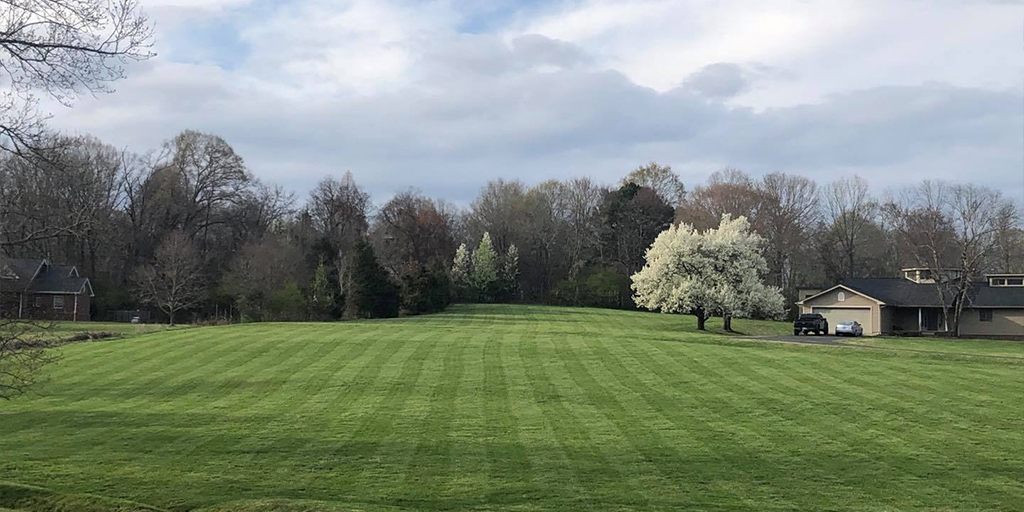 The humid condition of the Concord, North Carolina environment makes it such that keeping an immaculate lawn calls for more than just regular maintenance; it calls for a degree of competence and dedication that is genuinely extraordinary. When it comes to lawn care Concord NC, you can count on Lawn Impressions to be there for you every step of the way.
While Concord NC boasts many charms, it's not immune to common lawn care issues that can plague any city. In this picturesque locale, these problems may be exacerbated by fungal growth, stubborn weeds, and the scorching heat of summer, leaving your lawn looking less than its vibrant best.
Since every lawn is unique, Lawn Impressions offers many lawn care Concord NC options. We tailor our services to get remarkable results. Our hard-working experts are well-versed in every facet of lawn maintenance, including:
Bermuda Grass

Fescue Grass

Zoysia Grass

Fertilizer Treatments

Herbicide Treatment for Weeds

Low Voltage Landscape Lighting

Annual Flowers Change Outs
Why Choose Lawn Impressions:
At Lawn Impressions, we take pride in being the trusted partner that Concord residents rely on for expert lawn care services. Our team understands the unique demands of Concord's climate and soil conditions. This is why we provide garden-variety lawn care. With a deep understanding of local flora, pests, and weather patterns, we're equipped to make your lawn thrive, regardless of its challenges.
From regular mowing and weed control to more specialized tasks like aeration and fertilization, we offer a comprehensive range of services to keep your lawn in optimal condition.
Local Expertise and Knowledge:
Our dedication to enhancing your lawn goes beyond mere maintenance; we aim to transform it into a flourishing, vibrant, and visually captivating masterpiece. The fruits of our expertise will be manifested in the verdant expanse adorning your property.
Our team's extensive knowledge ensures the provision of highly effective lawn care solutions tailored to the specific needs of Concord, NC. Your lawn is in the hands of seasoned professionals, possessing a wealth of expertise accumulated through years of dedicated service in this field.
We are intimately familiar with the unique challenges and opportunities presented by the Concord, NC climate and soil conditions. This firsthand understanding enables us to craft customized lawn care plans that yield optimal results.
Our expertise extends to various aspects of lawn care, encompassing:
Soil Analysis and Nutrient Management: We meticulously analyze your lawn's soil composition to determine its nutrient deficiencies and formulate a targeted fertilization plan that replenishes essential nutrients, promoting healthy growth and vibrant color.

Weed Control: We employ a comprehensive approach to weed management, utilizing a combination of preventative measures and effective treatments to eliminate unwanted plants that stifle your lawn's vitality.

Pest and Disease Control: We proactively monitor your lawn for signs of pests and diseases, implementing timely and effective control measures to safeguard your lawn's health and prevent damage.

Irrigation Management: We carefully assess your lawn's hydration needs, ensuring that it receives the optimal amount of water to promote healthy growth and prevent drought stress or waterlogging.

Mowing and Edging: We meticulously mow and edge your lawn to maintain a consistent height, promote healthy growth, and enhance curb appeal.

Aeration and Seeding: We perform aeration and seeding when necessary to alleviate soil compaction and introduce new grass species, enhancing your lawn's resilience and aesthetic appeal.
Our commitment to excellence extends beyond technical expertise; we also prioritize customer satisfaction. We maintain open communication with our clients, providing regular updates on lawn care progress and addressing any concerns promptly. We strive to establish long-lasting relationships with our clients, ensuring that their lawns continue to thrive under our expert care.
Contact Us for a Free Quote:
Are you prepared to embark on the initial phase of revitalizing your lawn? Do not hesitate to reach out to Lawn Impressions at your earliest convenience to request a complimentary quote or schedule a consultation. We look forward to the opportunity to assist you with any inquiries you may have and provide guidance in developing a tailored lawn care Concord NC plan.
Reaching out to us is very simple and convenient. You may choose to call us, send us an email, or complete our online contact form. Please do not hesitate to get in touch with us today. We are eager to begin the process of designing a lawn that will undoubtedly leave a lasting impression.